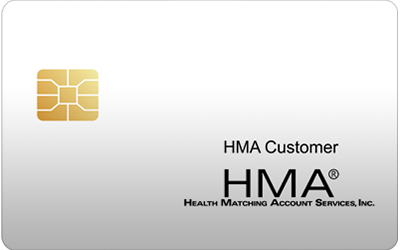 The Health Matching Account (HMA®) is a non-qualified, medical benefit savings plan that pays for most out-of-pocket, medical expenses that your health insurance and Medicare does not cover. You can access your HMA® plan benefits at qualified medical providers by swiping your HMA® Medical Reimbursement Visa® Prepaid Cards.
Any purchases at grocery store pharmacies or for other qualifying HMA® medical services can also be covered on a reimbursement basis by completing and submitting our simple online reimbursement form along with your itemized paid receipts conveniently located in your HMA® member portal and mobile app within 30 days of the procedure. In addition, the HMA® is also eligible to be used to pay for elective procedures (with MD surgeons only) such as plastic surgery, lasik, dental and fertility procedures.
The medical services listed below can be paid for by swiping your HMA® Medical Reimbursement Visa® Prepaid Card at the point-of-service and covers a vast majority of qualifying, 213 (d) medical expenses.

HMA® List Of Covered Services

Elective Procedures (Lasik, Plastic Surgery, etc. with MD surgeons only)
Ambulance Services
Chiropodists, Podiatrists
Chiropractors (2 routine adjustments per month, $150 max)
Counseling Service: performed by PsyD or PhD
Dentists, Orthodontists
Drug Stores, Pharmacies (no sundries / reimbursement only on grocery store pharmacy purchases)
Hearing Aid: Sales, Service, Supply Stores
Chiropodists, Podiatrists
Hospitals
Hospital Equipment
Laboratory / Medical / Dental / Ophthalmic
Medical and Dental Laboratories
Opticians, Optical Goods and Eyeglasses
Optometrists, Ophthalmologists
Prosthetic Devices
Osteopathic Physicians

The HMA® is not health insurance.
The HMA® Medical Reimbursement Visa® Prepaid Commercial Credit Cards are issued by Celtic Bank.